Why I work at OP
July 18, 2017 
By Claire Westberg, Service Coordinator, Asplin Center
My name is Claire Westberg and I work at Opportunity Partners – Asplin Center and I'm a Service Coordinator. I usually try to start my morning with the not so fun stuff like billing and paperwork, getting that entered into the system. Everyone always comes to your office in the morning, when they get here to say hi, it's a very positive way to start your day.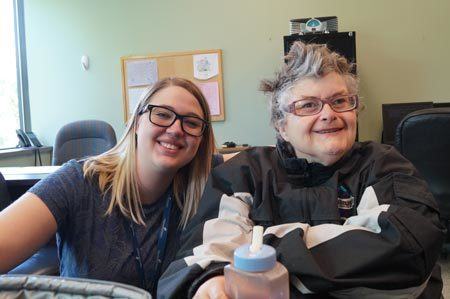 I think my role as a Service Coordinator…I've kind of heard it referred to as an in-house case manager because you do so many different things. We're really coordinating services, dealing with communicating with people's families, helping people with their schedule. Really I'm here to make sure people have good days, helping them with whatever goals they may have.
I love my job at OP, every day is different. There's opportunity for growth, which is really cool. I've been with the company for a little over two years, and I've had three different roles. It's a really cool feeling to feel like you're moving up in an organization that you really support and believe in. I really feel that I've build great relationships with the people served, and especially the people on my caseload. Not only do I have really great relationships with the people that I support, but relationships with their family. There's a lot of trust there.
It's definitely important to have a really good relationship with the people you support, otherwise how are you going to support them?
See Claire in action in a Day in the Life video. OP is always looking for great people to join our team! View our current openings.