Staff making a difference
Together, we are better.
We love our staff! Earlier this month, we held our annual employee recognition event at our Asplin Center in Plymouth to celebrate our amazing staff, enjoy a delicious buffet, give away more than 100 prizes, and acknowledge four employees with special awards. Thank you to all of our staff who are making a difference each day in advancing the quality of life for people with disabilities.
This year, instead of one Employee of the Year, we gave out awards based on our organizational values of Impact, Choice, Heart and Partnership. Each winner received a glass award and a check for $250.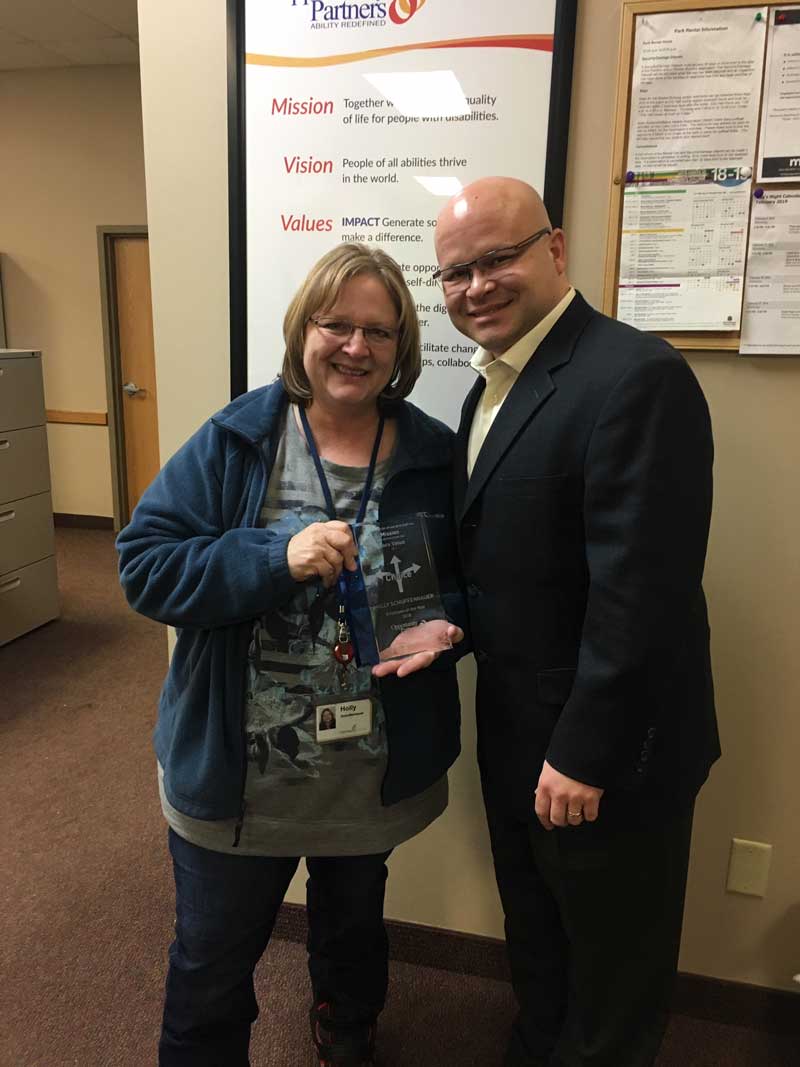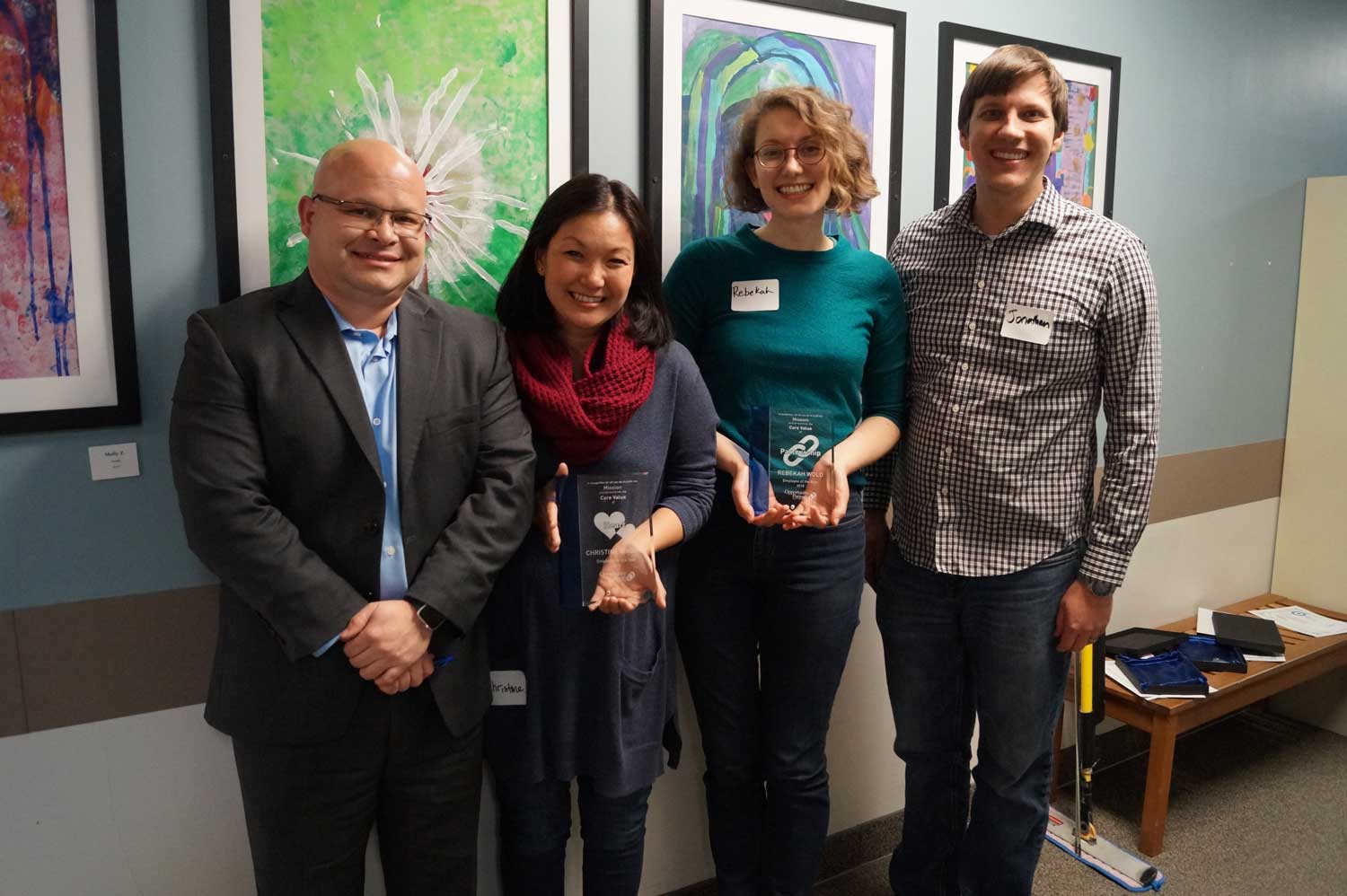 Impact Award – Generating solutions that make a difference. The Impact Award was presented to Jonathan Solie, Associate Director of Service Innovation.
Jonathan has worked in many different roles including an instructor in the Brain Injury program and manager for the BI and the Spectrum programs. He consistently strives for excellence and creates a climate of continuous improvement while also mentoring other managers and staff to lead and inspire others. He has left a lasting impact on every person he has encountered and will continue to do so in his new role.
Jonathan encourages his staff to pursue their career goals and helps ensure his staff have the resources they need to succeed.
Because of his expertise with Brain Injury, Jonathan has come up with tools and resources to help persons served meet their goals. His intuition and wisdom have helped staff create better dialogues with persons served about whatever issue or situation they are dealing with.
Choice Award – Creating opportunities for people to lead self-directed lives. The Choice Award was presented to Holly Schuffenhauer.
Holly is a direct support professional in our Anoka Semi Independent Living Services (SILS).
Holly encourages the people she works with to self-direct their programs and learn. An example is when she took over the planning a weekly group activity. She talked to the people served and asked them about their ideas. She then had them work together to create a calendar for the activity. Now they figure out plans and activities with minimal staff assistance.
Holly encourages people to explore and challenge themselves without stepping in and doing it for them. This method of working with our people pushes them to direct their choices and learn in real world settings.
Heart Award – promoting the dignity and worth of each other. The Heart Award was presented to Christine Wagner.
Christine is currently the Program Manager for Gunderson and Morgan residences.
She tirelessly provides alternative ways to think around a problem or situation, keeping an open mind and being proactive so that everyone around her has time to adjust to anything that comes our way in the house. She has led by example when it comes to being person-centered. She is always willing to listen and encourages options for our residents. She always encourages staff and the residents to advocate for themselves.
She is very aware of the feelings and emotions of everyone she comes in contact with. She breeds the atmosphere of celebrating success and taking interest in everyone that comes into the house. She is the heart of Morgan house.
Partnership Award – facilitating change through relationships, collaboration and advocacy. The Partnership Award was presented to Rebekah Wold.
Rebekah works as a Lead Service Coordinator at Koch Campus.
She has been facilitating the person-served Advocacy group, COAL, at Koch Campus. The group works on building relationships, collaborating with other community groups, and promoting self-advocacy.
She has an awesome attitude and makes time to work with COAL on special activities like a yearly food drive. COAL is important in changing our culture at OP and ensuring the self-advocacy movement continues to grow. Rebekah has such a gift for supporting this group in their endeavors. She's a special woman.
Congratulations to all of our amazing staff! Want to join our team? Check out our job listings here.