Showing heart every day
February 27, 2017
By Nick Elsen, Director of Residential Services
Direct Support Professionals (DSPs) make up the heart of our organization. The impact our caregivers make each and every day in advancing the quality of life for people with disabilities means they are among the most crucial members of our programs and services.
Whenever the people we support are having a difficult day, DSPs are there. When someone needs help taking daily medicine, getting dressed for the weather or making a healthy and tasty dinner, DSPs are there. And when someone may not have family to celebrate with during the holidays, DSPs are there to provide caring and family-like support.
Unfortunately, like disability service organizations across the state and nation, Opportunity Partners needs more DSPs to join our team. In fact, we have 70 open positions across our organization. 70! That is almost unbelievable and underscores the need to address the serious staff shortages that are harming Home and Community-Based Services like ours.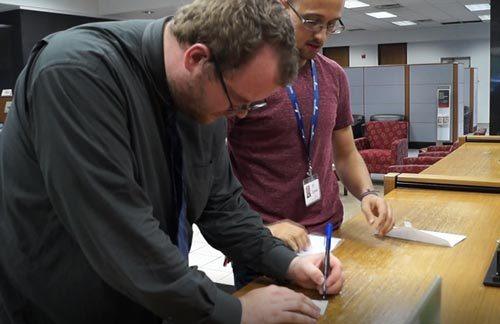 To highlight the incredible work of our employees and to recruit more caring and talented staff, we created a series of career testimonial videos. The theme of these videos is "A Day in the Life" and chronicles exactly that – what a day in the life at Opportunity Partners is like. Take a look at a day in the life of Eli Grobel. Eli is an Assistant Program Manager at OP's Fremont House. In the video, he is seen helping Fremont's residents with errands, assisting them to manage their money and helping them plan their vacations.
"It's a really unique thing to work in someone's home. You get to see their good days and their bad days and everything in between," Eli says.
You can join Eli and hundreds of other people on March 14 in the State Capitol Rotunda at 10 a.m. for a rally in support of Home and Community-Based Services. The ARRM/MOHR Day at the Capitol will focus on the urgent need to address the workforce shortage in Minnesota's community-based services. Best Life Alliance, a statewide coalition advocating for community-based services that support Minnesotans with disabilities, will discuss its 2017 legislation which includes two components:
Consecutive 4 percent wage increases for direct care workers (effective July 1, 2017 and July 1, 2018).
Improvement of health insurance for direct care workers by increasing provider rates to cover the cost of single employee healthcare coverage by July 1, 2019.
Learn more about Best Life Alliance and ways to get involved.
If you or someone you know is looking for a way to make a difference in the lives of others and to share your heart with us, check out our job openings.