Introducing Fire Starters!
September 28, 2017
Opportunity Partners has launched its own brand of Fire Starters for bonfires and fireplaces – just in time for cool fall nights ahead.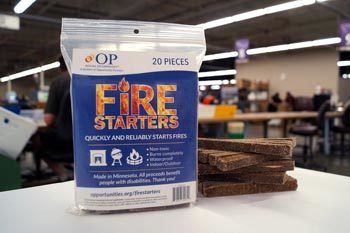 Now available on Amazon, Fire Starters are sold under the label OP Social Enterprises™ – a division of Opportunity Partners that is operated as a social enterprise for the benefit of a good cause. People with disabilities package the product at various locations around the Twin Cities.
For years, workers at Opportunity Partners have packaged a similar item under other labels but this is the first time the organization has branded one as its own. The organization purchases the wood, wax and other materials and ships them to a disability organization in northern Minnesota, where the sticks are produced and sent back to the Twin Cities to be packaged and labeled. OP Social Enterprises™ Fire Starters are sold in 5, 20 and 100 count packs for $5.49, $9.49 and $29.99.
In addition to being made in Minnesota, the sticks are non-toxic, waterproof, burn completely and all proceeds benefit people with disabilities.
The goal of the endeavor is more about mission than money, said Bill Schultz, Executive Vice President of Business Development and Operations. "By providing training and employment opportunities like this, more people with disabilities can develop their work skills and graduate to independent jobs in the community," Schultz said. "That helps us meet our mission of advancing the quality of life for people with disabilities."
Beyond Amazon, OP Social Enterprises™ hopes to collaborate with other retailers and organizations to market the Fire Starters. The Three Rivers Park District purchased 500 packs, labeled with the park logo and shared with campers throughout its parks. Learn more.