Inspiration is everywhere around me
June 19, 2017
By Tiana Daun, Digital Strategy and Communications Specialist
At any given time, our organization has dozens of job openings, mostly for Direct Support Professionals (DSPs). DSPs truly make up the heart of our organization. The impact that they make is immeasurable and we need them now more than ever.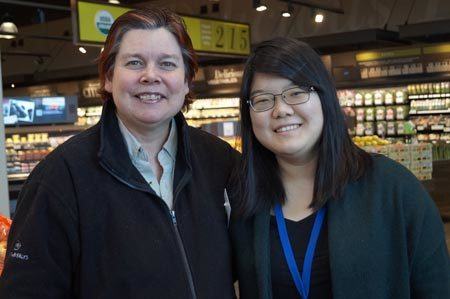 The relationships that DSPs build with the people we support at Opportunity Partners are crucial. DSPs ensure that people are happy, safe and valued – and living their best life. In my role, I am fortunate enough to witness these developing relationships firsthand. This year, we are continuing our "A Day in the Life" video series – where we chronicle what it is like to work at Opportunity Partners. For the videos, I follow staff members around for a day and interview them, asking about the roles they play, what they like about their jobs, and the impact they make.
Filming these videos has been incredibly eye opening for me. I remember being present for a particular conversation in which a person served confides in a staff member about how she is upset another staff member is leaving. This woman was in tears explaining how much she will miss the staff member. This scene was not filmed, but it really struck a chord with me. It then became more evident to me that the high staff turnover rates for DSPs throughout the disability service industry nationwide hurts the people that we support, and that's why we need our DSPS now more than ever.
Another thing that becomes clear in filming these videos is that EVERY SINGLE PERSON says that their favorite part of the job is building relationships with the people we support. For example, Gloria says, "I like my job because I basically get to visit some of the coolest people. It's really cool to watch them succeed and prove that they can do it. I just feel like I belong here."

Take a look at Gloria's video featuring a job visit with Kelly at Lunds and Byerlys. Gloria works as a job developer and over several months, has built a trusting relationship with Kelly.
If you or someone you know is looking for a job where you can make a difference every day, check out our job openings online.