History of innovation, thanks to you
January 15, 2018
By Armando Camacho, President & CEO
Opportunity Partners was founded 65 years ago by parents who knew their teenagers with disabilities had potential, but they needed opportunities to experience being a part of the community like everyone else.
Then called Opportunity Workshop, our organization was sustained by the belief that there is dignity in inclusion and all people deserve a chance. This was revolutionary thinking back in the 1950s!
History of innovation
Bob Garoutte was among the very first people we served in 1953 and who still attends our programs five days a week and lives at our Fremont residence. Bob's entire life was shaped by Opportunity Partners; likewise, Opportunity Partners was shaped by Bob and so many others.
Over the years, our organization responded to changing expectations and growing needs in our community. We added residential programs in the 1970s, brain injury and autism programs in the 1980s, then transition, seniors and apartment programs in the decades that followed. As we move forward together, we'll continue to change, to explore, to innovate and to succeed.
Innovation into the future
Our Together Works Better initiative is an example of innovation leading us into the future. We know competitive, community employment will be a primary focus for many young people entering our programs. Through Together Works Better, we're teaming with businesses to pilot peer mentoring internships that we hope will result in increased competitive job placements.
We are eager to share more stories like Lindsey's. Lindsey attended a careers class at our Anoka Service Center, before landing an independent job. Although she was initially reluctant to leave the familiarity of Opportunity Partners, she stepped out of her comfort zone. Now working for Aramark, she's a model employee, loves her job and her manager sings her praises.
Lindsey is doing so well that she no longer needs our services. When a person "graduates" from our programs, that is the ultimate compliment to us. While leaving Opportunity Partners may not be possible for everyone, we celebrate the individuals who do achieve that level of independence. We're also here for the folks who need more ongoing support.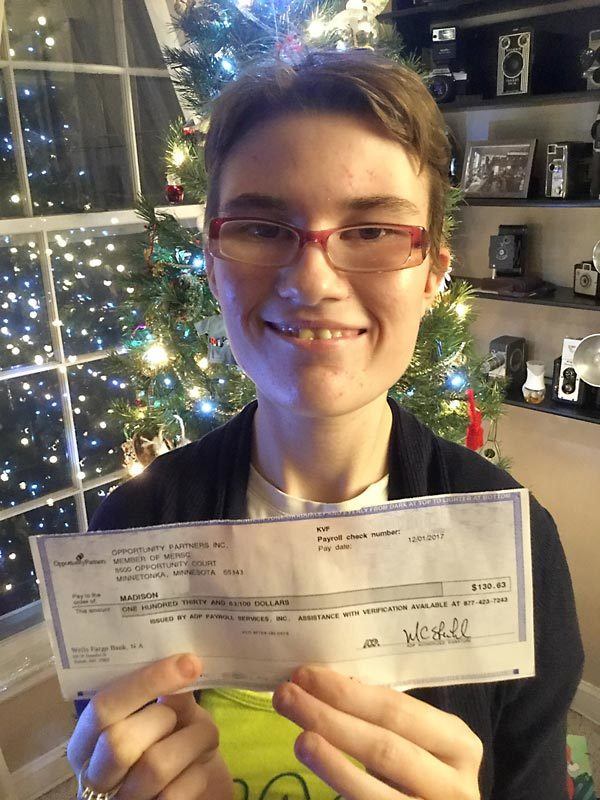 And I'm thrilled to tell you about Madison. Madison works two days each week as a daycare aide through our collaboration with the St. Paul Public Schools. She helps with the 5-year-olds – it's a job she loves. She was so proud to earn her first paycheck, her family snapped a photo and sent it to us. Her mom says, "She feels empowered to be a working woman. Asked what she would like to do with her money, she replied, 'Spend it on a trip.' "
We're proud to embrace 2018 with stories like Bob's defining our history, and successes like Lindsey's and Madison's shaping our tomorrow. Thank you for the role you have played in helping us advance the quality of life for people with disabilities. We look forward to sharing many more successes with you in the year to come.