Celebrating success
OP's annual Success Celebration, held on September 15 at the Hyland Hills Chalet in Bloomington, recognized "Out of This World Success" with awards in the categories of Impact, Choice, Heart, Partnership and Spirit.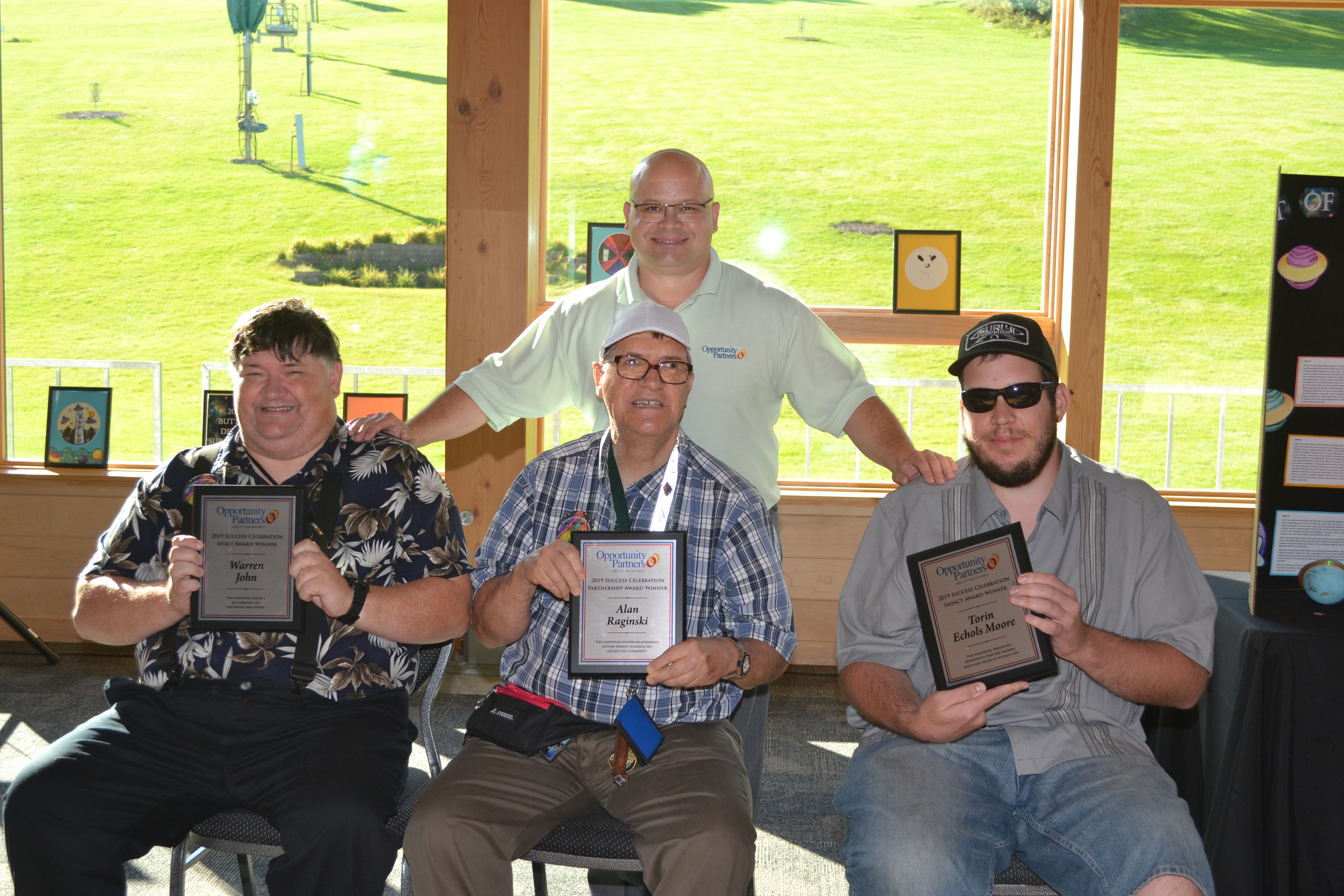 Whether landing a new job, increasing independence at home, advocating for one's beliefs, or achieving a major goal, these successes all enhance quality of life.
Impact Award – for creating positive influence through volunteering, education and work.
Torin earned the Impact Award for his achievements in competitive, integrated employment.
After taking classes and gaining work skills on the Best Buy Supported Employment Team, he made the choice to enroll in employment services and began his journey to independent employment. He explored a variety of opportunities before zeroing in on Home Depot as his employment goal. He wanted a job where he could help people and that was close to home.  He identified the lot attendant position at the Richfield Home Depot as a good match for his skills and goals.
With a little support, he completed the application, nailed it on his interview and accepted the position he wanted. Recently, Torin was credited by a parent as being an inspiration to a peer by sharing job experiences and encouraging his peer to participate in our employment program called Together Works Better. Recently, when asked if he would like to be a peer mentor for an employment exploration participant, Torin said yes without hesitation. In the words of the mentee, "Torin had a lot of information for me. Torin was helpful about employment. He was very kind and patient about answering the questions that I asked.  I feel more confident."
Choice Award – for building a self-directed life.
Emily earned the Choice Award for committing to a budget. A few months ago, Emily's staff helped her figure out a budget. The staff didn't hear anything about it for a while until she asked Emily one day about it. Emily told staff she had been following the budget, hadn't over-drafted her checking account, and had managed to save $600! She even told staff that she has now become addicted to saving!
Emily is working hard to plan for future emergencies and events and is excited to be able to provide for her family. Emily's choice to manage her finances is paying off in big ways. 
Heart Award – for promoting the dignity and worth of others.
Ken C. earned the Heart Award for being such a hard worker and a good person. In June, Opportunity Partners' Ensign House – Ken's home- was destroyed in a fire. He has experienced several moves since then, including staying at an extended stay hotel and finally a group home being leased from another organization, while Opportunity Partners is working on a permanent housing solution for Ken and his housemates. In spite of this tragic situation, Ken has still been coming to work daily and working hard. He is also helpful to staff and to the people who work around him. Ken was nominated in the Heart category because of the courage he has displayed while dealing with the disruption, and for giving it his all in spite of such trying circumstances.
Partnership Award – fostering relationships to enrich one's life or the community.
Alan earned the Partnership Award for his growth in independence. Over the last year Alan has worked hard to make his own choices and create opportunities for growth for himself. The key to this growth has come from learning how to manage his Metro Mobility rides independently. In the past, Alan depended on staff at OP and at home to manage his rides and activities for him. Since learning how to set up demand rides, Alan is active every weekend and has started inviting other persons served by OP to movies, restaurants and shopping.
He has created a social group that regularly meets up to get coffee or watch movies. Alan has become more independent over the last year and takes a great amount of pride in planning activities.
Spirit Award – personifying Opportunity Partners' mission, vision and values in daily life.
Warren earned the Spirit Award for keeping a positive attitude during times of change. He's maintaining relationships, advocating for himself, and promoting other's value and worth as well.
Last fall, Warren discovered that after 20 years of living in a home with two other men, he would have to move out. Opportunity Partners had provided in-home staff for Warren and his roommates every morning and evening, seven days a week. Warren was accustomed to and relied on having staff readily available. Fortunately, Warren and one of his roommate's teams were able to find an apartment for the two of them to continue living together. When they transitioned to this apartment, Warren adapted to not having staff available every day. He has become more independent and self-sufficient.
Warren has handled all of these changes and more with an upbeat and enthusiastic nature. He is a wonderful communicator and advocates for himself on a daily basis. He is also an avid volunteer for events throughout the year, and has not let all the changes slow him down.
Special thanks to the OP Person Served Recognition Committee for all their hard work in planning the Success Celebration. They include: Hannah Woodie, Emily McDonald, Jesse Millard-Dernell, Shari Mason, Heather Brueske, Colette Durr, Katie Sullivan and Joshua Haider.