Celebrate NDEAM with us!
September 24, 2018
By Tiana Daun, Digital Strategy and Communications Specialist
Opportunity Partners is proud to support National Disability Employment Awareness Month (NDEAM) in October. Each year, NDEAM celebrates the countless contributions of workers with disabilities and aims to promote awareness about disability employment issues. During October, we will be sharing stories of those who are succeeding in their jobs and organizations that foster a disability-friendly work culture.
According to the Bureau of Labor Statistics, in 2017 only 18.7 percent of people with a disability were employed, while 65.7 percent of people without a disability were employed. While the unemployment rates for both parties declined from the previous year, we still have a long way to go!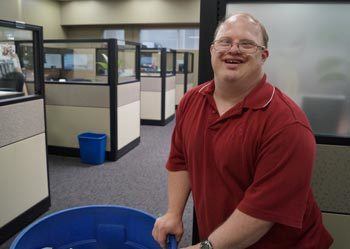 "Like all companies, ours doesn't operate on an island. Our organization is part of a system of business partners, people and values. To serve our customers and offer the best products and services, we need a diverse collection of skills and experiences," says Carrie Gruman of Productivity, Inc. Productivity has been a partner in inclusion for over 15 years. Matthew (pictured) works there as part of the janitorial staff.
Look out next month as we recognize some of our incredible people and celebrate in their employment success. Stories will be on Facebook, Instagram and our newsletter! You can also learn more on the Department of Labor website.
Persons with a Disability: Labor Force Characteristics Summary