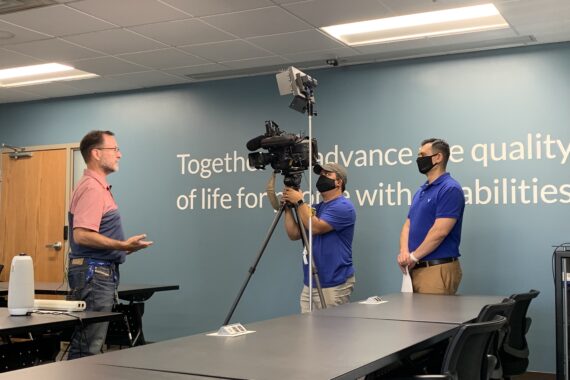 CCX Media: Opportunity Partners offering incentives to fill staffing shortages
August 5, 2022 by Delane Cleveland
Nearly every day, Linda-Mary Bruns leads enrichment programs for people with disabilities at the Opportunity Partners campus in Minnetonka.
Most of the time, those programs involve arts and crafts. It's an activity that Bruns says is essential for the people utilizing those services.
"I think it's very vital for their lives because what else would they do all day, just sit and watch TV?" said Bruns, a support coach at Opportunity Partners.
On a recent Friday, the class had nine people, but Bruns says they have room for a lot more.
However, they don't have enough staff members to make it happen.
"I'm not gonna lie, it can be stressful sometimes, it can be challenging sometimes," she said.
Opportunity Partners has more than 80 open positions between their locations in Minnetonka, Plymouth, and the various group homes scattered throughout the metro.
As a result of all those openings, they have a wait list of 400 people hoping to access those services.
"There is some pressure on me, but at the same time, we're very optimistic that we can fill these positions," said Danette Scorza, talent acquisition manager for Opportunity Partners.
Scorza is one of the people charged with finding qualified staff members who are passionate about this kind of work, but recruiting has its challenges.
"In today's economy, it's a candidates' marketplace," Scorza said. "So candidates are dictating how much money they want to earn, they are dictating what hours they want to earn, and they are also dictating they want to work 15-20 minutes from their homes."
STATE FUNDING CHALLENGES ADD TO HIRING STRUGGLE
Another challenge is that much of their funding comes from the state. During the 2022 session, state lawmakers didn't pass legislation to provide more money to disability services organizations. According to officials from Opportunity Partners, that makes it more difficult for them to compete in a tight labor market.
"One of the disappointments we've seen, quite frankly, is that with the large budget surplus the state has, unfortunately, our sector, the people we serve, have been forgotten," said Todd Schoolman, VP of human resources at Opportunity Partners.
Meanwhile, Opportunity Partners is hosting two career open houses aimed at getting more people on board.
The first is Wed., Aug. 17, from 5-7 p.m. at Opportunity Partners-Koch Campus at 5500 Opportunity Ct., Minnetonka. The other is Wed., Sept. 14, from 5-7 p.m. at Opportunity Partners-Asplin Center at 10000 51st Ave. N., Plymouth.
Any new full-time employee that are hired will get a $2,000 sign-on bonus. Part-time employees will get a $750 sign-on bonus.
It's an incentive that will hopefully help them fill some of those open positions and, in turn, allow more people to access their programs.
"I've prayed for people to come and to stay," said Burns, the support coach.