Arby's named Outstanding Disability Employer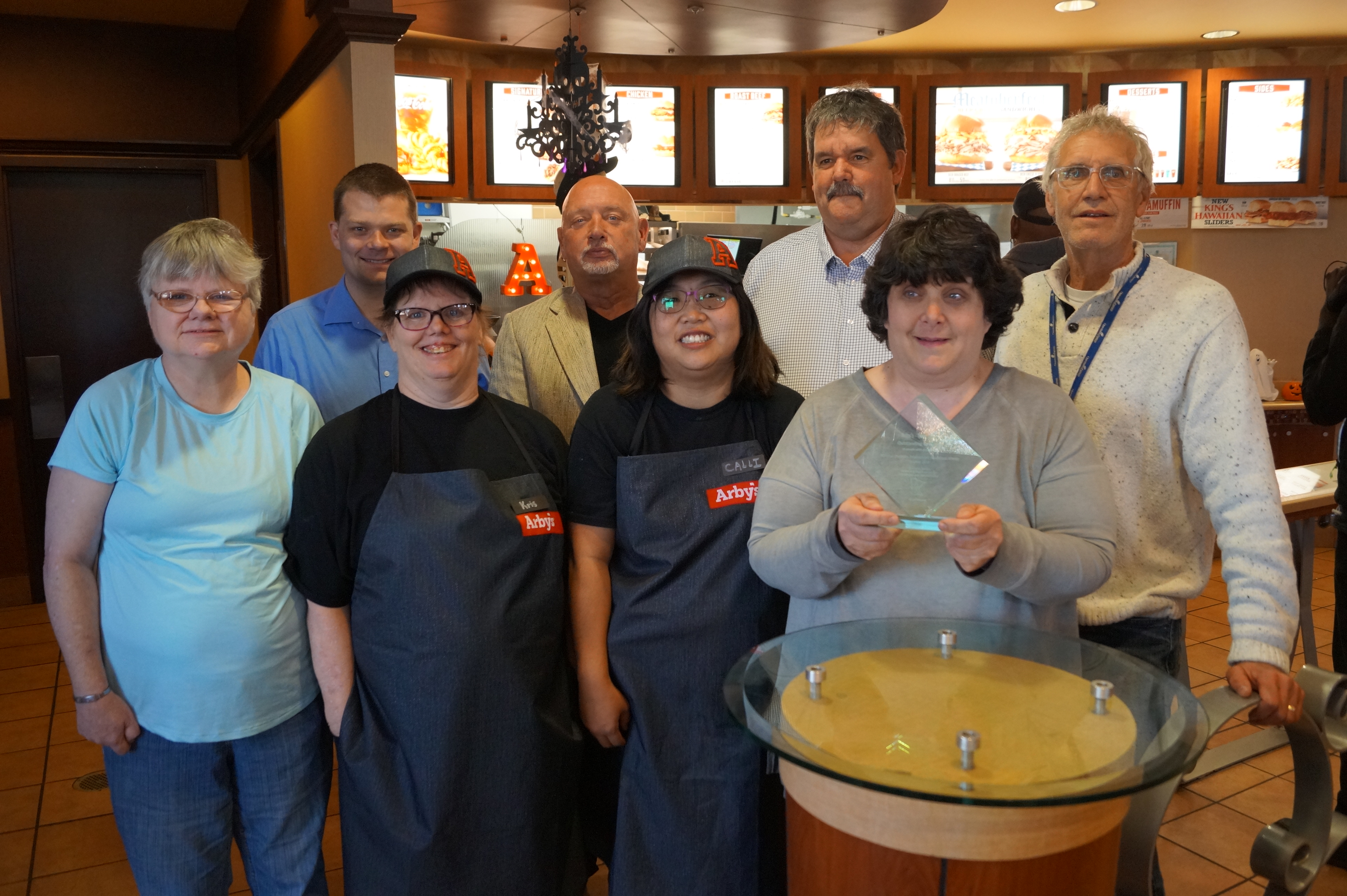 Arby's in the Twin Cities was named an Outstanding Disability Employer by the Minnesota Organization for Habilitation and Rehabilitation (MOHR) during National Disability Employment Awareness Month in October. Opportunity Partners, who nominated Arby's, supports employees at Arby's restaurants in Plymouth, Minnetonka, St. Louis Park and St. Paul.
"Arby's welcomes people with disabilities as employees right away, working to integrate them in their workplace culture," said Ben Kopnick, Opportunity Partners "Together Works Better" coordinator. Managers and staff work to put people into positions where they are most likely to succeed, he explains.
Opportunity Partners is also a key element in this equation. "They are here frequently in the beginning, helping out as needed and making sure that the new team member not only fits our needs, but that we fit their needs as well," said Rexanne Mullihan, area supervisor for Arby's Restaurant Group.
Staff from the service organization stop in to monitor employees' progress and keep in touch with Mullihan. "The support has been awesome," she said.
Kopnick said Arby's communicates well and does so consistently. "This ensures the highest possible level of support for the employee," he explains. The restaurants also add their own "natural supports" to help employees with disabilities. Staff show kindness and empathy, and workers supported by Opportunity Partners know who to ask when they need something. Additionally, through the successes and difficulties, situations are handled in an appropriate and professional manner, Kopnick said.
Mullihan said job placements from Opportunity Partners clean tables in dining rooms, greet and thank guests and engage them in conversation as they become more comfortable. Beverage, condiment and napkin areas are cleaned. Team members from the nonprofit also fill orders, work with slicers and fryers. One individual took on more duties to become a proficient order taker during lunchtime on weekdays.
"Together Works Better" is a grant-based program created by Opportunity Partners that provides onsite support through peer mentorships and supplemental taxi transportation for workers. This causes faster integration into the workplace, with the majority of support in the first 90 days of employment, Kopnick explains.
The restaurants challenge their employees by adding job responsibilities and promoting them when merited, Kopnick said. "This allows them to push themselves and grow their skillsets." Employees placed at Arby's by Opportunity Partners are quite satisfied.
"Dining room ambassadors" take pride in helping clean the dining area, said Kopnick. There's enjoyment in interacting with customers, learning new skills and getting paid for it. People with disabilities are in visible roles at the restaurants, which further illustrates their value to the organization, he explains.
MOHR represents more than 100 disability service providers across the state. Its mission is to advocate and support its nonprofit members in providing meaningful services to persons with disabilities and communities served. Members are committed to respect for each individual, a person-centered approach and expanding work opportunities.
Read more in the Sun Sailor newspaper.