Annual Gala inspires 500 during wonderful evening
May 7, 2018
By Grace Brennan, Donor Relations & Events Manager
Opportunity Partners' annual Gala was held Saturday, April 28 at our Koch Campus in Minnetonka, where we transformed our production center into a stunning and elegant event space on the production floor of Koch Campus. The evening blended inspiring family stories, exciting silent and live auctions, delicious food, and generous guests and sponsors who celebrated 65 years of advancing the quality of life for people with disabilities.
We showcased our organizational values of Impact, Choice, Heart and Partnership when we presented Bob Garoutte with a 65-year certificate and vintage style hat, and when we shared the touching video of Matthew Gerads. Please know that Bob's and Matthew's successes, and the successes of hundreds of other individuals, is in large part because of you, the wonderful people who make OP what it is today. Thanks to you, this was our most successful gala to date with a record-breaking 500+ attendees and more than $300,000 raised!
Here are some inspiring quotes from our Mission Moments: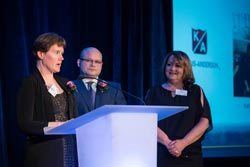 "My classes and jobs through OP helped me to learn how to work together as a team. It helped me to increase my work speed and have good work quality. OP also helped me by arranging vocational evaluations. The evaluations let me try jobs to see what I liked and what I was good at."
– Katie, person served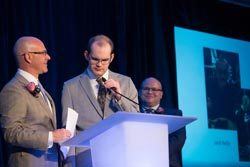 "We were always concerned about what Jack would do after he aged out of Transition Plus. Opportunity Partners has been the answer to that 'what' question and has made all of us happy beyond words."
– OP parent and board member, John Kelly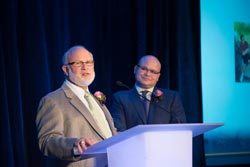 "At Opportunity Partners, for over ten years, he has been engaged by a progression of dedicated people who wanted to see him find himself and enter the community."
– OP parent Larry Kugler
Special thank you to our 2018 Gala Committee, our corporate sponsors, table hosts, event donors and volunteers. I also want to give a shout out to our co-emcee Ethan Bussiere, Glen Fladeboe, and everyone else who helped make the evening truly unforgettable. See more photos from the evening on our website or Facebook page.