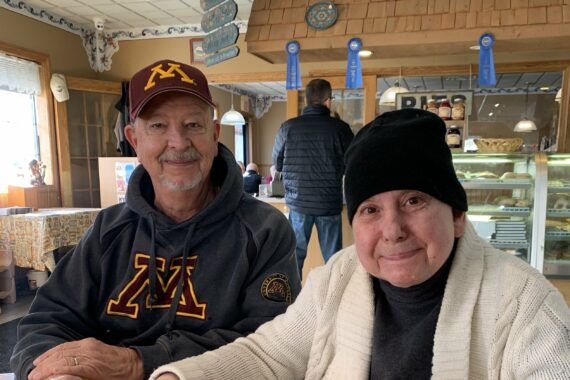 A Day Trip to the Norske Nook
As an Opportunity Partners employee for 42 years, Guy Johnson helps build memories and increase inclusion. As OP's leisure coordinator, he's organized hundreds of fun outings for people OP serves.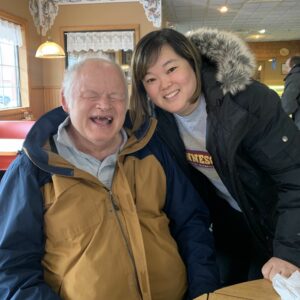 A favorite activity is a day trip to the Norske Nook, a restaurant in Osseo, WI that is famous for pie. Remarkably, Guy has been taking OP participants on this fun trip for 35 years. He said his favorite part about working for OP is "getting to take people out and helping them have fun."
Other adventures with Guy include going to baseball games, movies and (pre-pandemic) trips to places like Kansas City.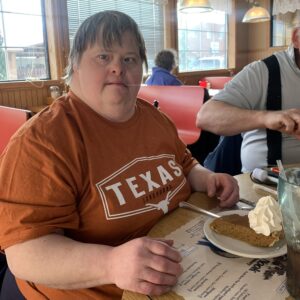 In November, Guy took a group including Bob, Bethany, Janet and Linda on their last Norske Nook trip until the spring. They enjoyed lunch at the restaurant, caught up with their favorite waitress Marlene and, of course, finished with some delicious pie. Pumpkin cream cheese and banana cream were their favorites!
"I enjoy being out, I love the weather and the people," said Bethany. Janet, who has been served by OP for many years, remarked that she "loves the people, the staff and the work," at OP.
Several in the group have known each other through OP for decades. "Linda and I have been friends for a long time," said Bob. The pair have known each other since they lived at Clara Doerr and Lindley Hall, larger OP residences that operated before smaller community housing, like group homes, became more common.
The group has shared countless memories together, enjoyed nearly lifelong friendships and can't wait until their next adventure!
Interested in a new career opportunity? Join our team!
Written by Julia Zerull, Communications & Engagement Coordinator