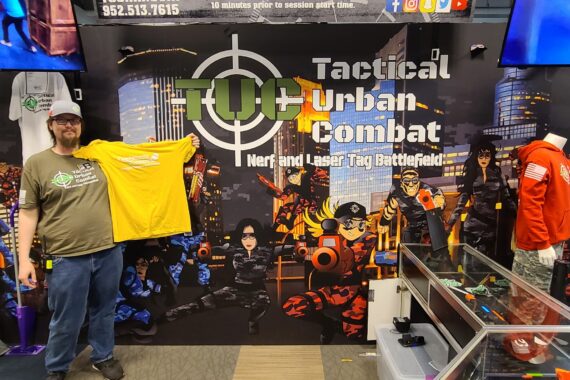 Work Success at Mall of America
Tom has been enjoying his career at Tactical Urban Combat at the Mall of America. Each day he referees nerf and laser tag games, comes up with new game concepts and has even got to test run the company's new VR (Virtual Reality) arena! He loves making people smile and forming connections with customers. "It's a good job because I get to branch out of my shell," he said.
Tom's been with Opportunity Partners for about a year and a half. Before OP, some of his work experiences were difficult for him. "OP has been a great job source to find jobs and find what's right," said Tom.
When it came to switching careers, he was set on working at the Mall of America for ease of transportation. He found out Tactical Urban Combat was hiring when the company's CEO posted about an opening on TikTok.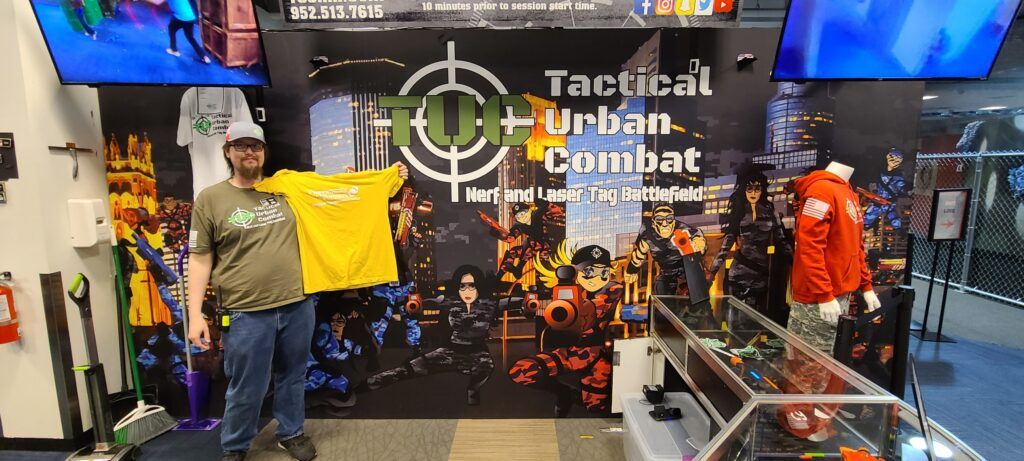 Tom's OP job coach Ashton has helped him succeed and support him through challenges. The pair have been working together for over seven months, where they've learned more about Tom's strengths and how he can use them.
"I've enjoyed working with Tom, seeing his insights and learning more through his skills and capitalizing on those skills," said Ashton.
The two of them have worked together to find balance at work for Tom. Tom is thriving in his job – he's been able to form personal relationships with his fellow employees and loves his career at Tactical Urban Combat!
"Ashton has been able to advocate for me when it's been hard for me to advocate for myself," he said.
Tom loves technology and is quite skilled with social media. He will soon be putting those skills to use by managing the company's social media pages! "Tom is really knowledgeable about technology. He has a good handle on social media and how it can benefit TUC (Tactical Urban Combat)," said Ashton.
Tom loves his work and has also been involved in charity events, raising funds for the Autism Society of Minnesota!
Written by Julia Zerull, Communications & Engagement Coordinator