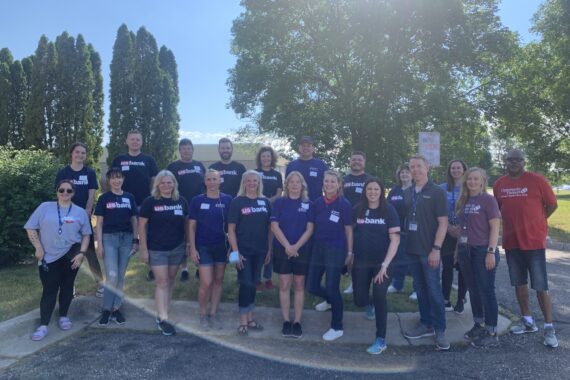 US Bank Volunteers Complete Karlins Move
This July, 15 volunteers from US Bank spent the day at our new location for our Karlins Center in Plymouth. The volunteer group moved furniture, set up classrooms and made sure everything was ready in order for services to resume.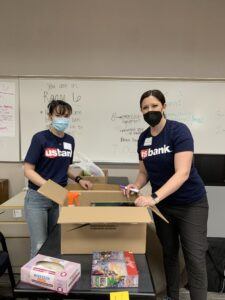 Opportunity Partners-Karlins Center has been in operation since 1996 and offers day enrichment services and community inclusion activities to adults with autism and other disabilities. The new building, which was purchased in 2021 and replaced a leased facility, has been remodeled to better fit the needs of the people served there. It has larger and brighter spaces, an outdoor patio and a media center in each room. The center was named for Miriam Karlins, who was a lifelong advocate for people with disabilities.
Ann Yekaldo, OP Board Member and former US Bank Executive, was among the group of volunteers. "We are organizing everything that's being moved into this wonderful new facility. We're trying to get everything ready so that on Monday people can come in here and feel welcome and be excited about this new space," she said.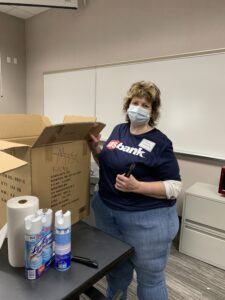 The volunteers worked hard at moving large pieces of furniture, organizing supplies and setting up offices for employees. The end result was welcoming classrooms, an exercise room and a large welcome banner! Volunteer Sharon Klanchnik said, "This is a great opportunity for us to give back to the community; it makes you feel really good."
US Bank has previously participated in group volunteering events with Opportunity Partners, including a fall cleanup at some of our group homes last October. "Volunteering is one of the great things that US Bank does where we can give back to the community," said volunteer Karen Lund. "I have a special needs granddaughter so this is very close to my heart."
We're so grateful for our volunteers! Their help is critical and always appreciated! "I love Opportunity Partners, it's just been a really good partnership," said volunteer Marne Jo Hovland.
We will be hosting an open house for the new center in September, more details to come.
Group volunteering events like this are not only helpful to OP, but a great way to build team camaraderie and give back to the community. For more information about volunteering, contact Alexis Boxer, Events & Development Coordinator, or fill our online form today.
Written by Julia Zerull, Communications & Engagement Coordinator