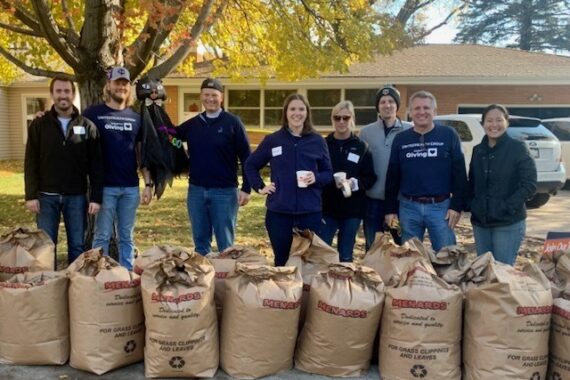 Thank You, Volunteers!
In September 2021, we welcomed some new faces to our freshly launched volunteer program. Individuals have begun helping in our enrichment classes, and groups of volunteers have already made a big impact – special thanks to Bell Bank, UnitedHealth Group and U.S. Bank for their help and their heart!
Bell Bank volunteer Joan helped Robin with clay projects at OP-Koch Campus in Minnetonka. The group connected over fun activities and lively conversations. Robin had a great time in her class, and summed it up well, saying, "You're awesome. I love you!"
Volunteers from U.S. Bank and UnitedHealth Group joined us for service days in October at several OP residences throughout the Twin Cities. The teams raked leaves, cleaned windows, carved pumpkins and put up fall decorations.
Our volunteer program has a wide variety of options for volunteers to connect with people served and our mission. Some current opportunities include:
Help with outdoor maintenance and clean-up at our group homes
Assist with in-person or virtual enrichment classes
Serve on our Gala committee – silent auction, live auction and planning
Teach a skill or hobby in-person or virtually to a small group
Perform administrative tasks or light maintenance at our facilities
We're excited by the number of people signed up to volunteer with us so far and look forward to growing our volunteer community!
For more information about volunteering, contact Alexis Boxer, Events & Development Coordinator, or fill out our online form today.