Staff Spotlight – Patrick Gambill-Read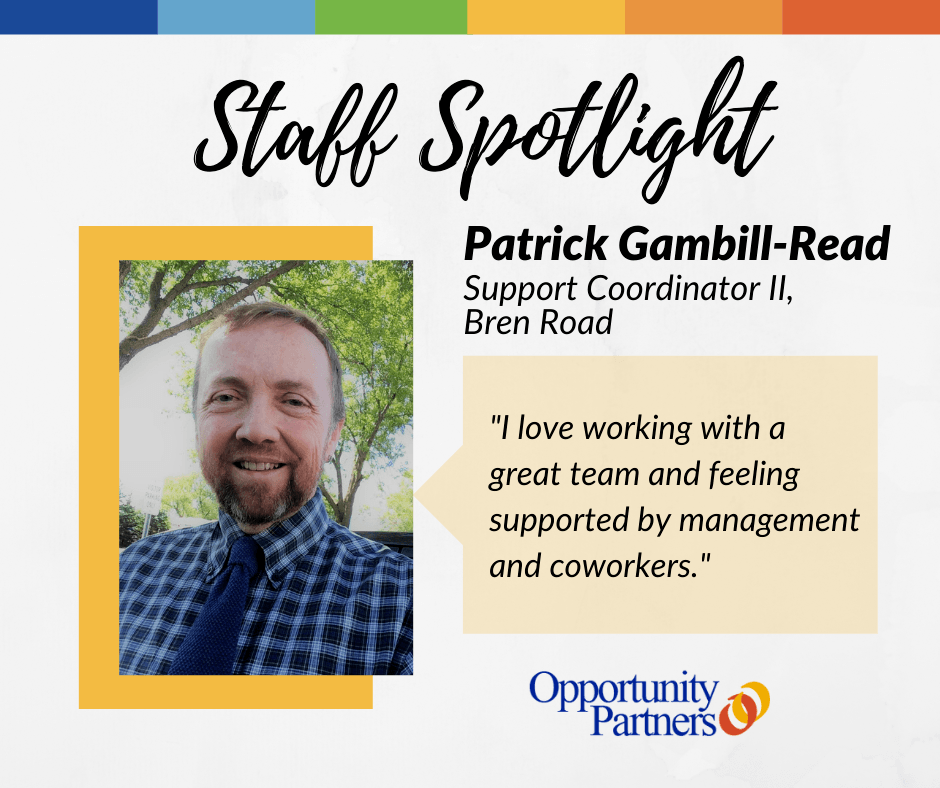 Patrick Gambill-Read, Support Coordinator II
What do you do at OP?
I support people in learning and practicing job skills while earning money and increasing their independence.
Share a mission moment!
One time when I was working on-call in residential, I arrived to find one of my people served on their way out for a walk. I encouraged them, as it was a beautiful day and they were clearly excited about the goal they had set for their walk. Although I later discovered that other staff and management were surprised and a little worried that the person had set out to walk that far independently, the smile on the person's face and the pride in their voice when they returned triumphantly from that walk touched all of us, staff and people served alike.
What do you love about your job at OP?
Working with a great team and feeling supported by management and coworkers.
If you won the lottery, what's the first thing you would do?
Probably replace my car, which is now held together by bungee cords and duct tape. Then, road trip with my family.
What is your favorite indoor/outdoor activity?
Cooking, reading nonfiction, Words with Friends, hanging with two-legged and four-legged family.
If you could learn to do anything, what would it be?
I quit running a few years ago following an ankle injury and surgery, and I miss it a lot. I'd love to relearn running, or learn another activity that would bring some of the same physical and mental benefits.
Anything else you would like to share?
I do voiceovers for our four cats, each of whom also has their own song.