Staff Spotlight – Mindy Otis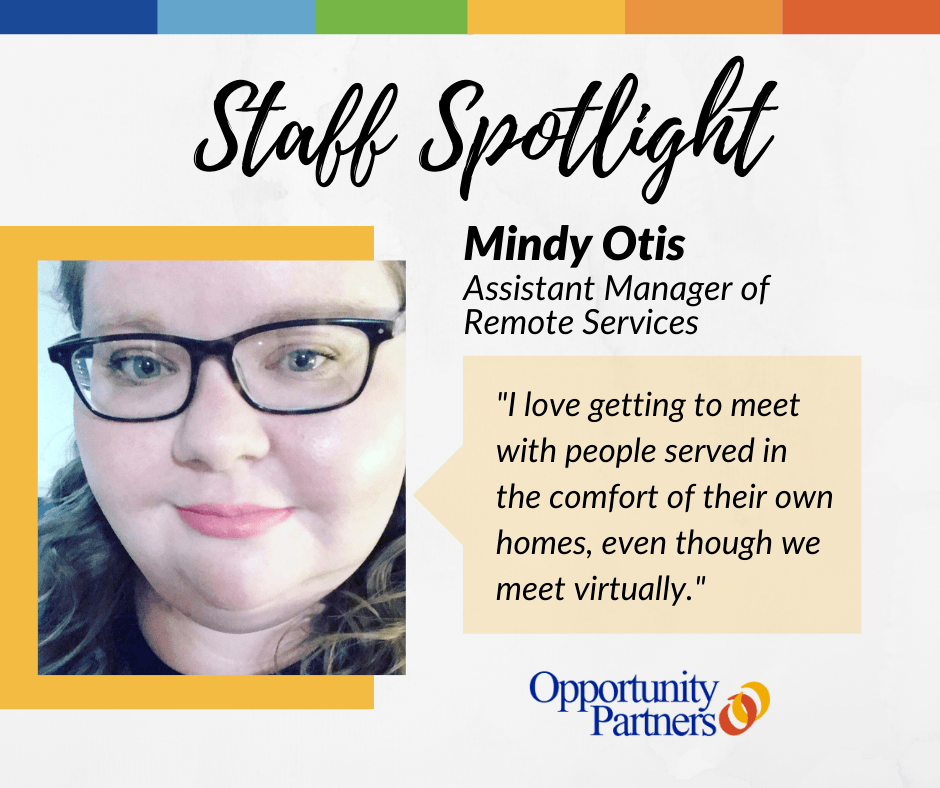 Mindy Otis, Assistant Manager of Remote Services
What do you do at OP?
I support person served and staff who work and meet remotely from their homes over Zoom!
Share a mission moment!
Within the past year I have seen so many of our person served not only learn how to use brand new technology but learn how to use it independently! I was able to help a person served over zoom by describing the steps needed to log themselves onto zoom on their own. Within a week or so they were logging themselves on all on their own and not only that, they learned how to set up their own email folder for all their zoom class links all on their own! It is so fun to see their face light up when they have mastered these tasks!
What do you love about your job at OP?
I love getting to meet with people served in the comfort of their own homes, even though we meet virtually. The people we support remotely have been able to share things not typically shared in a day program setting, such as their pets, what their bedrooms look like, special things that are important to them. I love getting to see this different side to the people we support.
If you won the lottery, what's the first thing you would do?
Probably pay off my student loans and buy a house!
What is your favorite indoor/outdoor activity?
I really enjoy cooking and playing board games with friends and spending time with my cat, Peaches.
If you could learn to do anything, what would it be?
I would learn how to play every single instrument; I have a weird habit of acquiring musical instruments that I do not know how to play, but I really like them and would love to learn!