Staff Spotlight – Julie Magel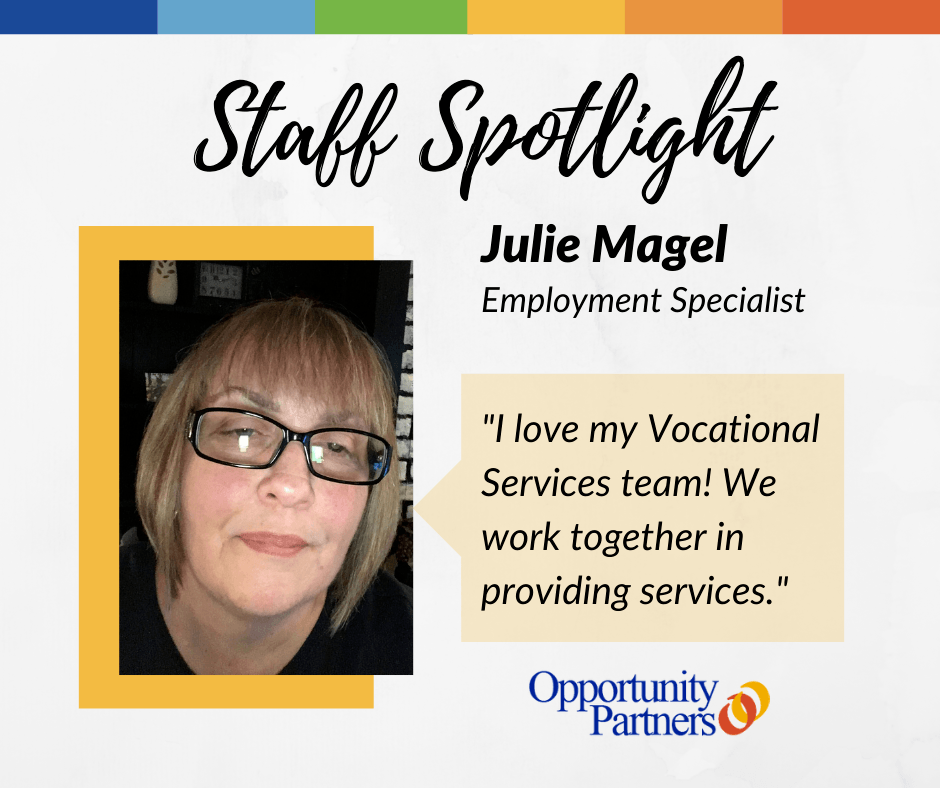 Julie Magel, Employment Specialist
What do you do at OP?
I work with individuals who are employed out in the community. I visit and support them with setting employment goals, communication with their employers, trainings, and problem-solving in general with their employment needs or concerns.
Share a mission moment!
I worked with an individual who was on his last set of warnings by his employer. We built a plan to meet monthly with his manager to work on retaining his job. This helped the employer keep the individual working there and the individual was able to build a team relationship with his manager. I was able to support them both to have a positive work experience together.
What do you love about your job at OP?
I love my Vocational Services team! They work together and are cohesive with providing services to our Extended Employment/Job Development groups!
If you won the lottery, what's the first thing you would do?
First thing I would do if I won the lottery is secure trusts for my children. I would like to take care of those that were there for me. After that, I would travel and donate to my favorite charities.
What is your favorite indoor/outdoor activity?
Since the pandemic, my family and I have really dove in to cooking by ordering Hello Fresh a couple times a month, preparing recipes, and doing family game night.
If you could learn to do anything, what would it be?
Scuba Diving
Anything else you would like to share?
I have two incredible children, Cassandra and Jacob. I could be anywhere in the world, but wherever they are, it's home to me.