Staff Spotlight – Joshua Haider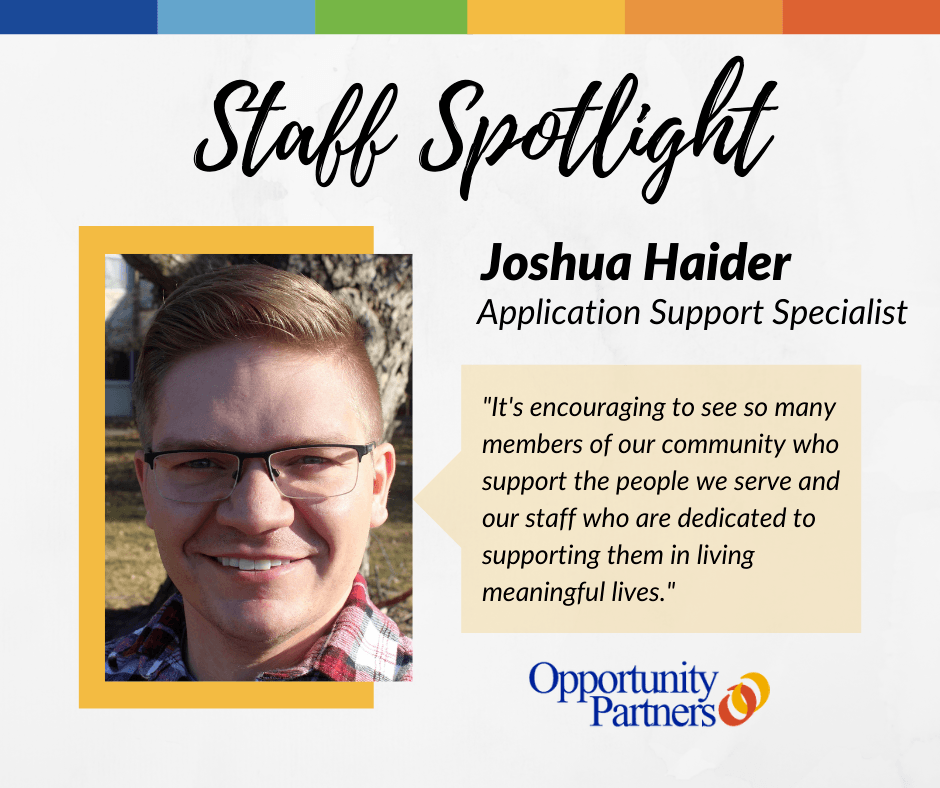 Joshua Haider, Application Support Specialist
What do you do at OP?
I move dots around on computer screens 😉 more specifically, I maintain our case management system and help our staff use it effectively. I troubleshoot issues and create new tools when we need them.
Share a mission moment!
I really enjoyed volunteering at our last Gala, and getting the audience hyped for the auction. It's encouraging to see so many members of our community who support the people we serve and our staff who are dedicated to supporting them in living meaningful lives.
What do you love about your job at OP?
I like being the answer guy! Tech plays an important role in the background of what we do, and I love figuring out how to make tools and use data to help us improve the way we serve people. Even though I no longer support our people-served directly, I get to support our staff doing that important work.
If you won the lottery, what's the first thing you would do?
If I was being practical, I'd pay for my wedding and house, then squirrel away some savings. But for fun, I'd get my fiancee a Tesla and a couple amazing steak dinners, and buy myself the Sennheiser HE90s – the best headphones in the world!
What is your favorite indoor/outdoor activity?
Rock climbing, weight lifting, and hiking in beautiful places. Can't beat that.
If you could learn to do anything, what would it be?
Maybe not exactly something to learn, but I would love to be able to climb 5.14. Watch the "Dawn Wall" documentary if you want a better sense of what that means in terms of difficulty.
Anything else you would like to share about yourself?
I have, by my own admission, too many headphones. If you stop by my desk you'll see several of them. They all sound different and I can't ever decide which one to listen to- better have them all on hand, just in case!