Staff Spotlight – Emily McDonald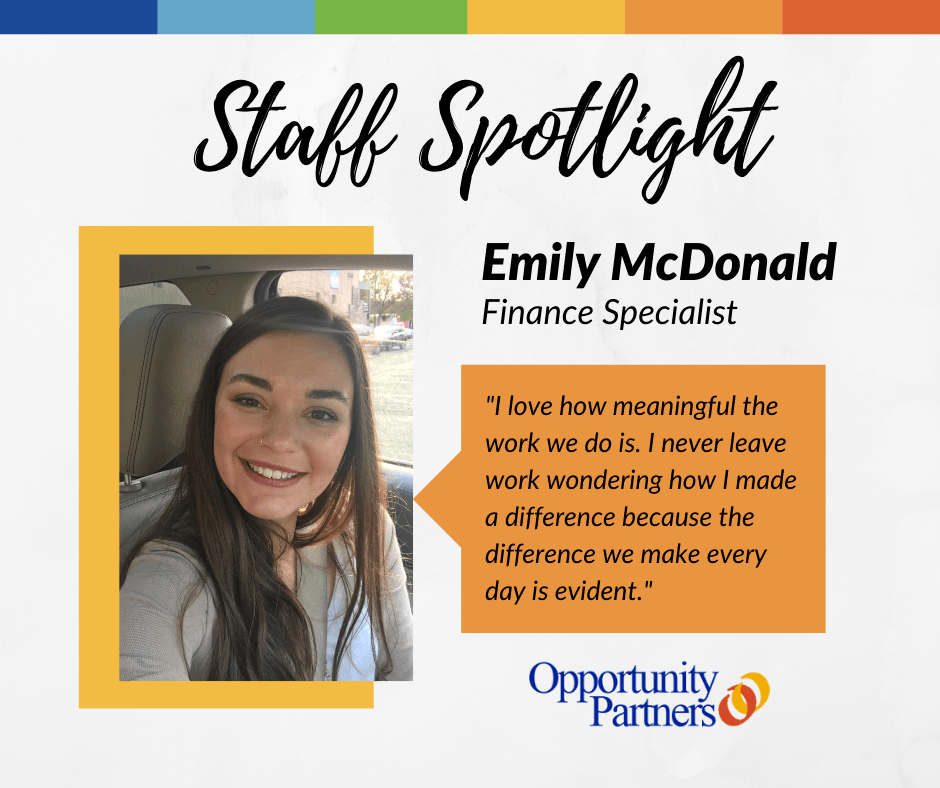 Emily McDonald, Finance Specialist
What do you do at OP?
I am responsible for billing for the work done on our production floors and the services that we provide to the people that we support.
Share a mission moment!
I never tire of seeing the pure joy and pride the people we support experience when they meet a personal goal or professional goal, whether they've been working on it for a few months or a few years.
What do you love about your job at OP?
I love how meaningful the work we do is. I never leave work wondering how I made a difference because the difference we make every day is evident. The pet policy at our sites is pretty fun, too!
If you won the lottery, what's the first thing you would do?
I would donate a significant amount to a few organizations that I believe in, take a rock climbing trip to Patagonia with my fiancé, and save/invest the rest.
What is your favorite indoor/outdoor activity?
My favorite indoor and outdoor activity is rock climbing. I'm grateful that Minnesota has such an amazing climbing community.
If you could learn to do anything, what would it be?
I would love to learn Italian and Greek!
Anything else you would like to share about yourself?
Fun fact: The only OP setting I have not worked in is Employment Services. I have worked in our Day Programs, Group Homes, and Admin offices. Additionally, I volunteered at an OP Day Program twice a week during my last couple years of high school.