Staff Spotlight – Dianna Hamilton-Yess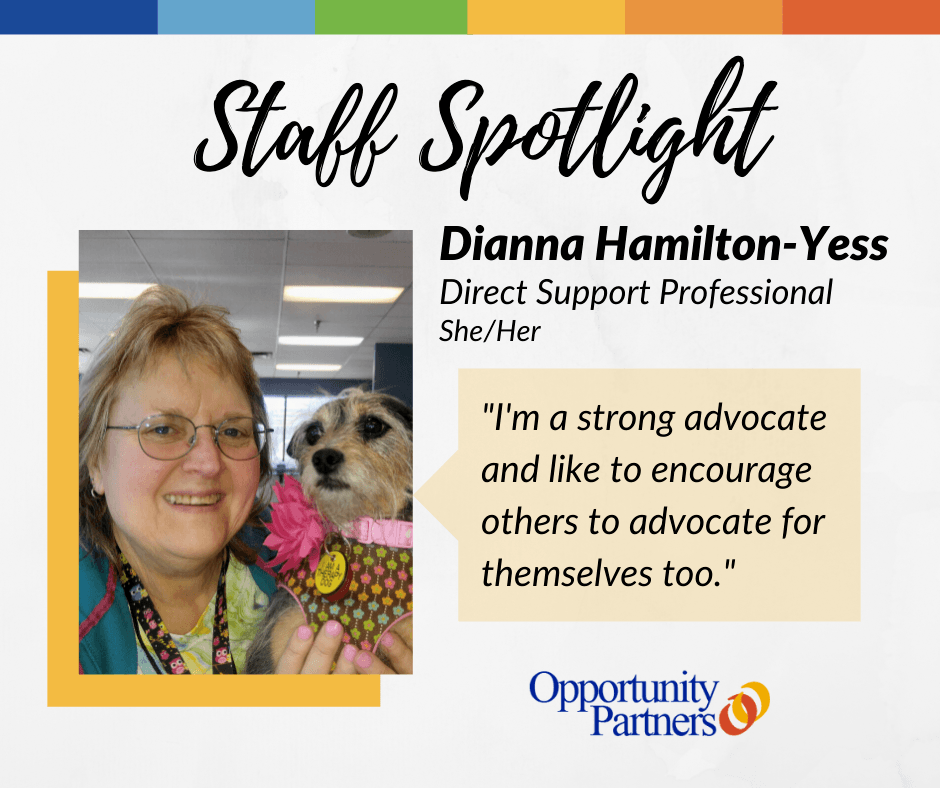 Dianna Hamilton-Yess (She/Her), Direct Support Professional
What do you do at OP?
I help adult individuals in the community by going on outings/activities of their choice to help them be as independent as possible. I'm a strong advocate and like to encourage them to advocate for themselves too.
Share a mission moment!
I love bringing a person served out into the community, grocery shopping, and being with more people and having more life experiences to learn from. It can be really awesome when a spontaneous experience happens with another person in the community; the interactions and learning experiences. You gotta go with the flow.
What do you love about your job at OP?
I love the interactions with people served and being there when they grow those interactions.
If you won the lottery, what's the first thing you would do?
Put it in the bank and think about the best ways to enjoy/spend it.
What is your favorite indoor/outdoor activity?
I like being outdoors and taking "point and shoot" photos with my phone of nature scenes. I enjoy walking with my dog and reading a good book.
If you could learn to do anything, what would it be?
I would work more with dogs somehow!
Anything else you would like to share?
I am a big animal lover. I love dragonflies. I love my family and getting together; seeing my nephew's families and their little ones.