Opening Minds. Changing Lives. Together.
January 3, 2017
By Armando Camacho, President & CEO
As we kick off 2017, we look forward to another year where we can make a difference in the lives of people with all abilities. I know you share in our beliefs that all people deserve a life where they are valued, recognized, and celebrated for abilities, not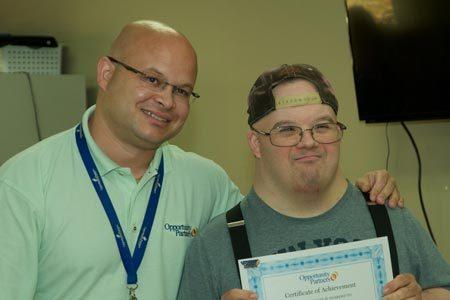 disabilities.
This was never more apparent than in 2016 when, sadly, we had to say goodbye to a number of individuals who had been served by us, some for many years.
One person was John Beresford, 36. John developed leukemia earlier in the year and was not given long to live. Knowing how important work was to John – he had attended Koch Campus nearly 11 years – his family arranged a retirement party here. It was one last chance for him to connect with friends and staff, and to bring closure. The party was a touching and profound experience for everyone involved.
John died 11 days later.
His parents, Rick and Mary, shared their gratitude: "Thank you once again, and please thank (everyone) who came and loved on John. It made all the difference in the world to his state of mind and to his heart. You all make such a difference in the lives of your clients and their families. It is good work that you do. God's blessings on you all!"
We never take the work we do for granted. We know when all people have the chance to be accepted and included, our world is better. We touch lives, we make a difference, and we care. We celebrate when the people we serve experience success, and we miss them when they are no longer here.
We know that the year ahead will bring unique challenges to organizations like Opportunity Partners. With increasing requirements from both the federal and state levels to expand community integration and independent employment options, we acknowledge that our services may not look the same in the future as they do now. But we vow to forge ahead, leading change in our sector by reinventing our services as needed so we can continue to provide people opportunities to lead the happy, dignified and rewarding lives that everyone deserves.
With your support, we will "Redefine Ability." Opening Minds. Changing Lives. Together.
P.S. If you want the latest information about our service redesign plans in 2017, be sure you are on our mail and/or email list. Contact info@opportunities.org or 952-930-4208.