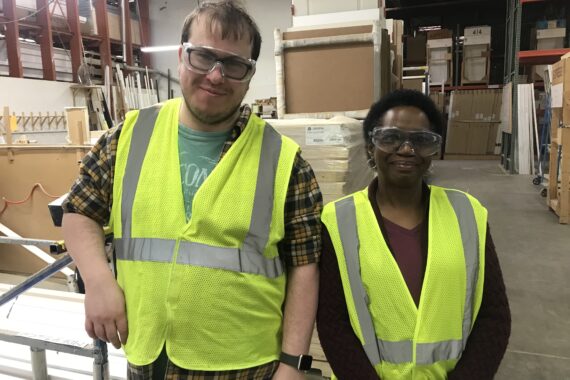 On-Site Success at ABC Millwork
Opportunity Partners has provided a supported team to ABC Millwork, the largest supplier of millwork to the professional builder industry in the Minneapolis/St. Paul area, since February. At the Chanhassen facility, employees assemble materials including moulding and millwork, interior and exterior doors, and windows and stairs.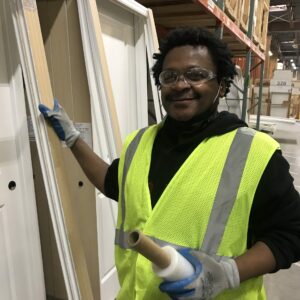 A team of three workers and their supervisor report to the Chanhassen facility Monday through Friday, providing support with daily tasks. The crew stays busy stocking parts, sweeping sawdust off the floor, packaging and assembling items, stockpiling components, bundling trim and wrapping door casings and frames, among other duties.
Routine tasks like stocking and housekeeping were bogging down the more experienced team members, and the OP team has taken over some of those duties to help everything run more efficiently. "They really are contributing to what we're doing," Safety & Training Supervisor Sharon Cabrera said. "We consider them to be a part of the team." The OP crew keeps operations running smoothly and frees up the ABC Millwork employees for more advanced work.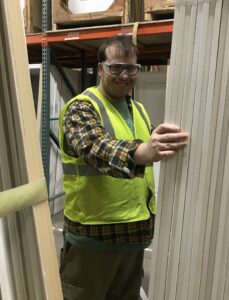 ABC Millwork Logistics Supervisor Jeff Korkowski originally reached out to OP to bring the team on board, and Safety & Training Coordinator Zak Aaron helps them succeed on the floor by developing a daily agenda of tasks and ensuring they are learning and following all safety protocols.
"They get to learn something new," he said. "Everyone appreciates their work and the time it saves them." Zak said he's made it a point to integrate the OP team into the regular workforce. "I don't want them working on an island," he said. "Staff have really embraced them."
OP workers Michael and Grant are pleased with their job at ABC Millwork. "I enjoy it," Michael said. "I like to keep busy and stay active. They are easy to work with." The ABC Millwork team loves the OP crew and notes their energy and eagerness to learn.
Interested in learning how your business can benefit from a dedicated OP team? Contact us today at 952-930-4201 or partner@opportunities.org