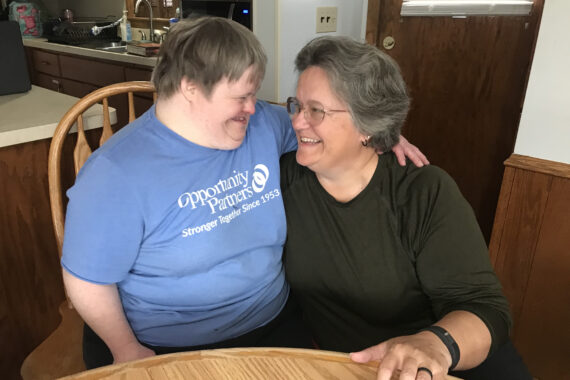 Four Decades of Opportunity
For Linda Hartigan, 58, Opportunity Partners has been almost like family for more than 40 years. Although most of her real family live out of state, they've been comforted knowing that OP helped expand Linda's world in so many ways.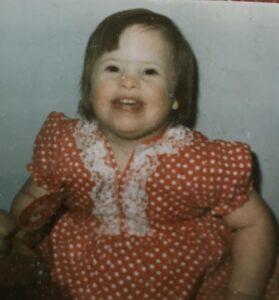 Saying no to an institution
When Linda was born with Down syndrome in 1964, Linda's parents, Butch and Anita Hartigan, vowed to care for Linda at home instead of putting her in an institution, recalled Linda's sister, Georgia Harris. They even relocated to Minnesota from Illinois in part because of the disability services offered. Linda had a wonderful childhood, attending school and traveling with her family.
Finding Opportunity Partners
As Linda grew older, the question of what would happen after high school remained. Fortunately, her parents found her a coveted spot at Opportunity Partners' (then Opportunity Workshop's) residential facilities, Clara Doerr Residence & Lindley Hall in Minneapolis. There, adults with disabilities lived in dorm-like settings and learned independent living skills. She moved in just before her 18th birthday and learned to do light packaging at the organization's workshop.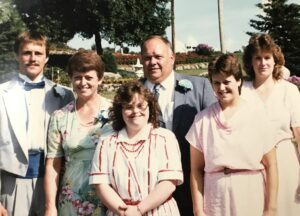 When Linda's parents moved out of Minnesota, they faced a dilemma: take Linda from her friends and routine, or have her stay in Minnesota with OP. In the end, they let Linda decide. "Linda chose to stay," Georgia said.
Anita, who has kept journals over many years, wrote at the time: "For Linda to learn to live independently, we had to let her go," adding that OP offered Linda what they as protective parents could not, including job and bus training. Linda learned to ride the city bus all over town and not get lost, she recalled.
Opportunities to live a full life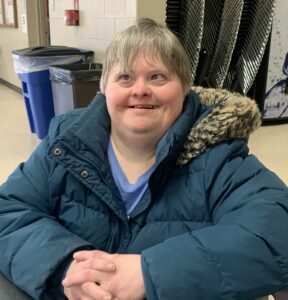 Linda blossomed through the years. She met countless friends, took part in social activities, and experienced the pride of working. In the year 2000, Linda moved to OP's 12th Residence in Richfield, where she lived for more than 20 years. "Linda's life has been filled with opportunities to thrive," Georgia added.
And OP was by Linda's side through the next transition, when Linda relocated in January to OP's newly renovated and modern Chicago Residence in Bloomington. The house has greater accessibility and more comfortable spaces for everyone.
Georgia said her family does not know what they would have done without OP. "Her whole life has been much more independent as a result of OP."