Community living with confidence
July 31, 2017 
By Julie Peters, Communications Director
As a sports enthusiast, Justin Kunz appreciates the values of training and working as a team.
Whether he's cheering on the Minnesota Twins or finishing a 5K wheelchair race, the 39-year-old has found these values in his home life too – from Opportunity Partners' Independent Living Skills (ILS) program. With just four hours of staff support per week, Justin has the training and teamwork he needs to live very independently.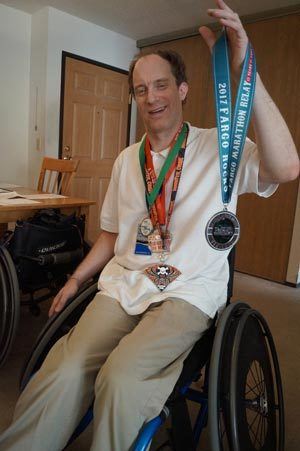 Justin has cerebral palsy and brain injuries from medical complications, resulting in short-term memory and balance issues. He walks with a cane and uses a wheelchair to participate in races. His apartment in downtown St. Paul provides him quick access to his job in records management at an insurance company, where he works 26 hours a week.
Opportunity Partners' ILS program provides one-to-one assistance to help people achieve or maintain independence. Goals can include self-care, mobility, sensory and motor development, socialization and more. In Justin's case, Opportunity Partners staff help him manage his calendar, medical appointments, banking, paperwork, grocery shopping and cooking.
He has made huge strides over the nearly 15 years that Opportunity Partners has supported him. "It used to take us two hours to balance my checkbook," he recalls. "Six months later, I knew I was making progress is when I could do it myself."
He needed more help early on, but over time as he settled into living independently he was able to cut back on his hours with staff. "My staff said, 'You've outgrown me.' That was the ultimate compliment."
Now, Justin knows he can do most things on his own but Opportunity Partners is by his side to assist when needed. "I feel more secure, more confident if there's someone behind me if I need help," he said. "Opportunity Partners has been really good for me."