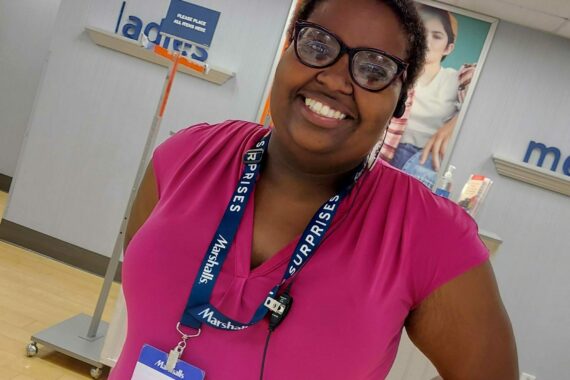 Celebrating NDEAM 2022!
October is National Disability Employment Awareness Month (NDEAM) – a time to celebrate the contributions that individuals with disabilities make to the workforce and advocate for inclusion. This year's theme is "Disability: Part of the Equity Equation." We are so proud to highlight these Opportunity Partners employment success stories!
Nicole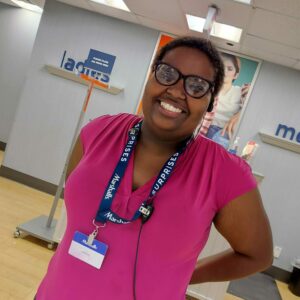 Nicole started at Marshall's in Downtown Minneapolis working inventory in the store's back room. Her success on the job was well recognized and she has now been trained to work on the store floor in men's and baby clothing and the dressing room. Her supervisors appreciate her willingness to learn and love her huge smile. Soon, she will be trained to work as a cashier as well! "I like my coworkers, talking to the customers and working in Downtown Minneapolis," said Nicole.
Andy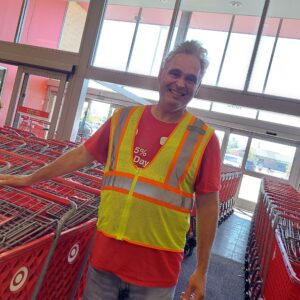 Andy has been working at Target for two years and has become a staple at his store. He brings in carts from the parking lot and sanitizes them and has stepped up to learn more tasks in helping support the store upkeep! He loves getting to know the customers and being a support for his fellow team members. Andy's staff Kara noted how much his team appreciates him. "Every time I visit Andy, there is a coworker that will come up to share what a hard worker he is," she said.
Tressie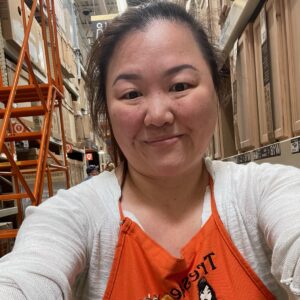 Tressie has been working full-time at Home Depot for almost a year. She loves monitoring the self-checkout area where she can interact with customers daily. She frequently works overtime and goes out of her way to help her coworkers whenever she can. She's received several employee of the month awards and gold star pins due to her excellent customer service and credit card promotion. Tressie's staff Brittney complimented her generous work ethic, "she really goes above and beyond when it comes to her coworkers and helping customers!" she said.
Tim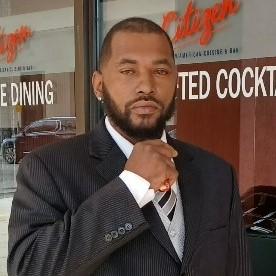 Tim recently started a job as a Warehouse Associate at Tire Rack after working in OP production for some time. At work, he signs parts that are being prepared to ship. At home, he serves as a caretaker for his apartment complex where he vacuums the hallway, plows the snow around the buildings and takes out the trash. His staff Ivo noted the progress he's made in finding a new permanent job and keeping it. "Tim is a team player," said Ivo.
Tammy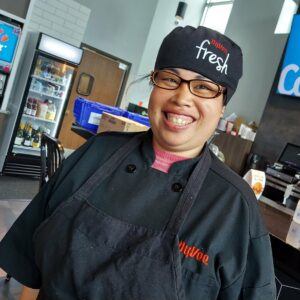 Tammy works at Hy-Vee in Spring Lake Park. She washes dishes in the Hy-Vee Café and loves her job. Her coworkers have continuously complimented her work and her positivity on the job. The Hy-Vee team values her dependability and hard-work – and can't get enough of her contagious smile! Tammy said she's "grateful for small things, big things and everything in between."
Richard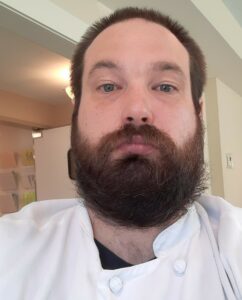 Richard works in the dish room at The Waters assisted living home. There, he makes coffee, serves water and cleans up the memory care area and kitchen. He worked throughout the pandemic and more recently moved to an independent apartment with a roommate. At home, he likes to cook, clean, go shopping and attend church every Saturday. He is working on his hand writing skills and enjoys walking in his neighborhood. Richard's staff Ivo noted his accomplishments, "He has been working hard at his job and has kept his employment for a long period of time!"