Working together for success
OP provides important step in process
Our community is better when we all work together.
Cannon Equipment, a Marmon/Berkshire Hathaway Company, helps companies improve their operations and gain efficiencies by designing custom material handling carts, equipment, conveyance and aftermarket parts. Their commitment to community is strong.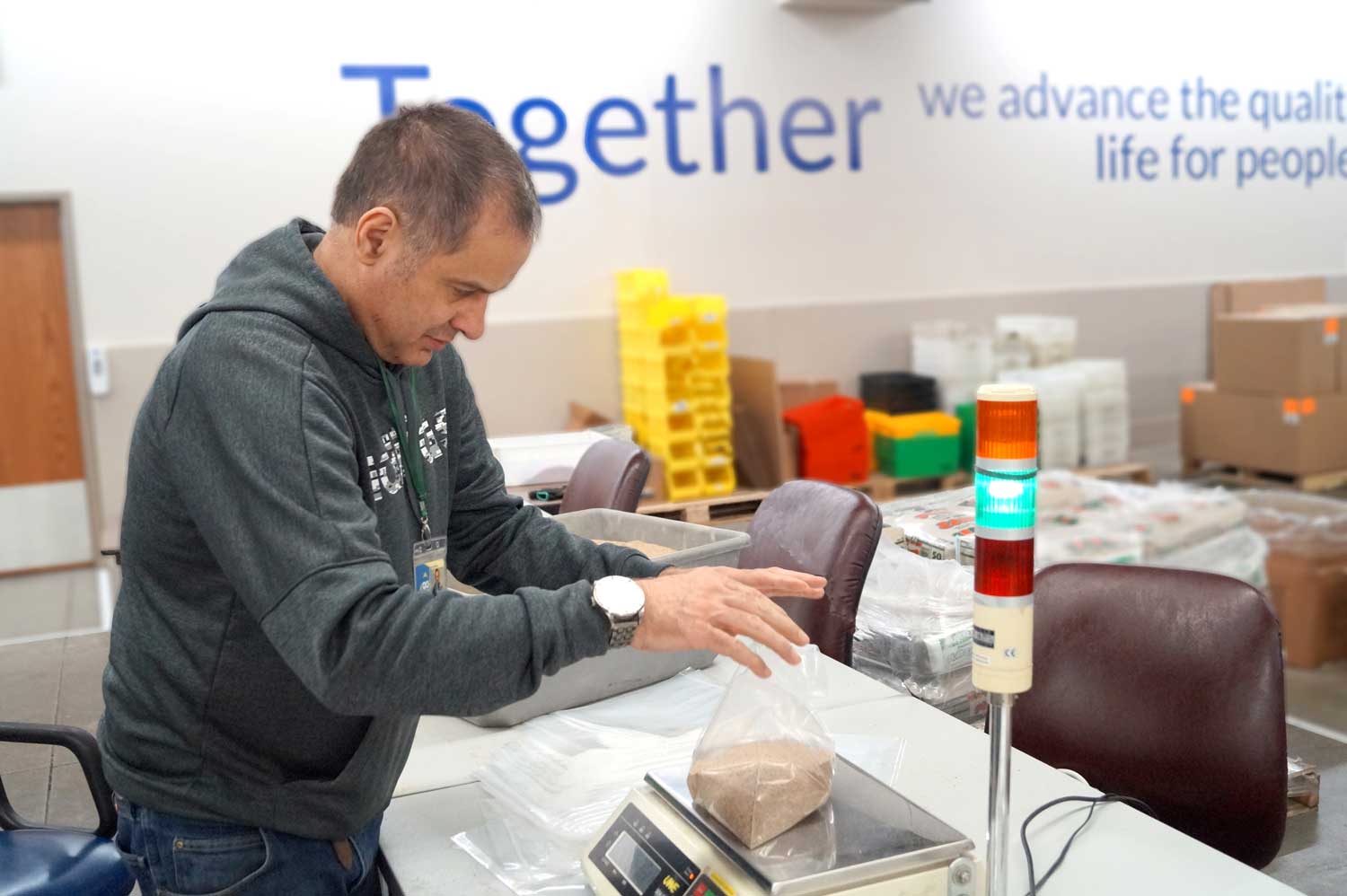 Like Opportunity Partners, the people at Cannon Equipment are problem-solvers at heart. They needed to assemble "test pallets," which are sent with each new conveyor system. The boxes require a specific weight of sand inside, and colored dots and bar codes on each box to be detected by the conveyor system. Cannon Equipment found it difficult to keep up with the demand for the box assembly so turned to OP to help solve their workforce challenge.
OP recommended a Vendor Managed Inventory program, which allows a seamless solution. OP handles the procurement of the materials and assembles the pallets to Cannon Equipment's forecast.
This project is a great example of OP teamwork as each step allows people with varied skill levels to contribute. One day recently, Rick scooped sand into bags and weighed them, while Alex taped boxes. Meanwhile, Rebecca and Victor stuck dots and bar codes onto boxes and stacked them on a pallet. In all, OP has assembled more than 17,000 boxes since starting the job last summer.
John Evans, Cannon Equipment's Director of HR, Health & Safety, said Opportunity Partners is a valuable partner. "This was a new project for us and we had our own employees putting the boxes together for the first few weeks, including our senior management on the weekends, before we began working with OP."
He added that OP enables Cannon Equipment to have a reliable and timely supply of the testing boxes and frees up its own employees to concentrate on more complex assembly operations.
John said he would recommend Opportunity Partners to other companies. "OP has been very helpful, reliable, responsive, timely and cost-effective."
Contact us today for help with packaging, shrink-wrapping, kitting, collating and labeling. Call 952-930-4201 or email partner@opportunities.org